Student Programs
Programs for Motivated Students
Ever wonder why you study basic math, algebra, or trigonometry?
Curious about careers in architecture, construction and engineering?
Are you trying to figure out what you want to do after high school?
Imagine learning math (and having fun doing it); learning about rewarding career choices, and, if you're a junior or senior in high school, sometimes making money in the process. That's what we have to offer students through a broad range of construction-related programs.
Construction Academies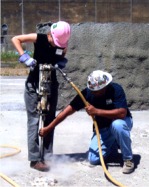 The cornerstone of all OBC student programs is to learn what it takes to be an employable worker, such as calculating, writing, speaking, listening, problem solving, taking responsibility and becoming a team player.
By participating in an OBC Construction Academy, you'll understand how math, science and English are used in the building industry. You'll explore post-secondary opportunities including four-year university, community college and apprenticeship programs. You'll discover technical and managerial careers in construction. You'll earn money while working and learning throughout the summer. And, you'll emerge with greater confidence about your skills, knowledge and career opportunities.
Unfortunately, we don't currently offer Construction Academy programs outside of the areas listed above. If you are interested in starting a program in your community, please contact
Tom Goodhue
, OBC Executive Director, at 503.685.8313.

The Academy for Architecture, Construction and Engineering (ACE)
The Academy for Architecture, Construction and Engineering opened to students for the 2008-2009 school year. The new high school is open to junior and senior high school students enrolled in Centennial, Gresham-Barlow, Parkrose and Reynolds School Districts, Sandy High School, and home schoolers who are interested in learning about architecture, construction and engineering careers. The school's small, experienced teaching staff will employ innovative teaching techniques that combine academic and technical training in hands-on projects.
Learn more about ACE Academy opportunities open to students in grades 8-12.



For more information about OBC student programs, contact:
Tom Goodhue
OBC Executive Director
tgoodhue@obcweb.com